The Los Angeles Film Fest did not disappoint this year.  When all was said and done, I saw over twenty films in the course of ten days.  I'm telling you, if there's a job for a professional film festival attendee, I'm happy to apply!  Once again, I enjoyed a variety of interesting movies – often in the company of my Los Angeles friends.  A big thanks to those of you LA angels who came out to support indie cinema with me (KS, SK, ERW, JJ, CF, MT, RA).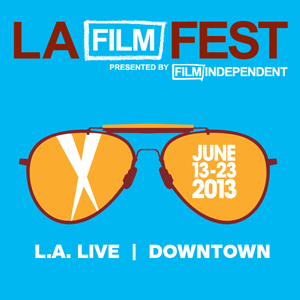 And now…my favorites from the 2013 LA Film Fest:
THE NEW BLACK – When legislation preventing same sex marriage passed in 2008–the same year of Barack Obama's historic election–many pundits pointed their fingers towards the African American community's presumed homophobia. Filmmaker Yoruba Richen questions the history and the validity of these assumptions in this frank documentary that traces the complicated and combative intersections of the African American and LBGT civil rights movements.
I still have the Los Angeles Times newspaper from Wednesday, November 5th, 2008, and its cover serves as a bittersweet reminder of what was achieved the day prior and the work still to be done.  Yes we did elect the country's first black President, but at the same time my generally uber-progressive resident state of California was making it unlawful for my gay friends to get married.  Were the post-election assumptions true?  Did the black community that came out to vote for Barack Obama also play a significant role in voting against another disenfranchised minority seeking the same equal rights historically sought after by blacks?  I guess that's why this documentary caught my attention.  And I appreciate that director Yoruba Richen tackles the subject in a thoughtful, objective manner.  While my liberal leanings had me cheering on the Maryland activists fighting for gay marriage, I also appreciate that the people leading the argument from the other side (namely assorted leaders in black evangelical churches) were not demonized and, in fact, given plenty of screen time to explain their beliefs.  Now that's "fair and balanced" coverage. (And hooray to Maryland voters for voting same-sex marriage into law last November!)

AIN'T THEM BODIES SAINTS – This moody, meditative noir tells the tale of Bob and Ruth Guthrie, an outlaw couple whose crime spree comes to an end when the cops find them holed up in a house on the outskirts of town. After Ruth wounds an officer during the inevitable shootout, Bob takes the blame and lands himself in jail. After four years of longing for the love of his life, Bob breaks out of prison and sets out on a journey across Texas hill country to reunite with Ruth and the daughter he has never met.
AIN'T THEM BODIES SAINTS is an unadorned, straightforward story that derives its depth from gorgeous production values and intense, heartfelt performances.  It reminds me of a Terrence Malick film in that its one of those cinematic experiences you submit to.  Writer/Director David Lowery will certainly remain on my radar – his confidence behind the camera captures moments that are poignant, chilling, and heartbreaking.  Of course, he's aided by powerful actors, particularly Ben Foster and the always-captivating Rooney Mara.  Another MVP for the film is composer Daniel Hart.  His affecting score includes the unique use of percussive hand-clapping, distinguishing it as one of the most original film soundtracks I've heard in a while.
FOREV – Pete and Sophie are somewhere on the edge of the desert when he works up the nerve to propose. The hitch being: Their whirlwind road trip from L.A. to Phoenix is the closest these neighbors have ever come to going on a date. Nevertheless, fueled by their respective fears of intimacy and low-grade self-loathing, they run with the idea, much to the annoyance of Pete's sister Jess, who's along for the latter half of the ride.
FOUR DOGS –  Already branded an acting school drop-out, Oliver courts further indignation by serving as his aunt's live-in dog sitter and pool boy. Having reduced his (anti)social circle to his paranoid drug dealer and embittered best friend, Oliver is shaken from his stupor by the arrival of an alluring houseguest dealing with her own issues.

These last two ultra-low-budget films share very similar traits: each has a simple narrative that's anchored more in real characters than in plot, yet the filmmaking voices behind these narratives is anything but simple.  In an industry where so many movies feel like generic, insert-plot-twist-here, carbon copies of one another, FOREV and FOUR DOGS are refreshingly unique in the struggling souls they choose to portray.  They remind me of my Wisconsin Film Festival favorite, ALL THE LIGHT IN THE SKY, in that they're able to glean drama and humor from slice-of-life observations.  A successful charm is the end result, achieved through sheer authenticity.